Salon Promotions

Referral Program
Love your stylist? Share that love with all your friends! Pick up some of our referral cards at the front desk and fill them out with your name and your stylists name written on the back. When your friends book an appointment, tell them to bring the card and you get 100 TreatCard Points. Once you reach 1000 points receive a $10 Bonus Card!
Check Out Our App!
Hydrating Haircut
A custom serum blended to what your hair needs right now; its dried into the hair to help it penetrate into the hair shaft so you can feel the results for up to 22 washes! Prebook and get this treatment for $10 ($15 dollars otherwise)
Reunite Mom with Her Hairstylist!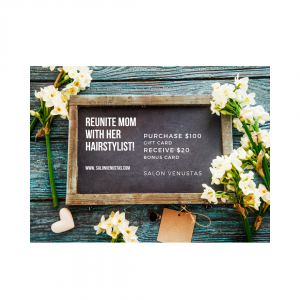 This year make Mother's Day extra special and reunite her with her hairstylist!
Purchase $100 Gift Card –  receive $20 Bonus Card
Now available for purchase online or on our App.
Kerasilk Holiday Box Set Shampoo & Conditioner Trio's
Includes a limited edition hand soap! Available in Color or Control – $50 for the Holidays!
Goldwell Holiday Box Set Shampoo and Conditioner Duo's
Includes a limited edition hand soap! Available in Color, Blondes & Highlights, Just Smooth – $25 for the Holidays!
Private Bookings
Private Bookings for up to 4 people in you COVID Bubble available.
COVID Friendly Hours Available
Days and times when the salon has less people.