Our Team
Salon Venustas is the kind of place where everybody's family—whether they're the guests sitting in our chairs, the smiling faces who greet people when they come in, or the stylists. It is here that people feel pampered, and you can rest assured that we do our very best to make every person's visit as comfortable and welcoming as possible. Since we spend so much time making our clients look and feel great, we wanted to give you the opportunity to get to know the team behind the beauty.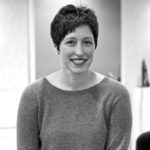 Alicia
Owner & Stylist
Alicia moved back to Madison in 1997 after working on Newbury Street in Boston, where she gained a broader view of the industry. She says salon life is in her DNA, and Boston taught her the importance of balancing creativity and business. When it was time to commit to her family's business, at the age of 27, she returned home to Madison.Alicia studied at Emerson College before she went to hairdressing school in Boston. She's attended The Tony and Guy Academy in London, Sassoon Academy in Chicago, and regularly attends salon business education and global color education courses by Goldwell. She has also been fortunate to bring guest artists into Salon Venustas for her staff.According to Alicia, this career path actually chose her. The decision came from deep within. She was always exposed to the industry as a child, so it was almost a natural evolution—a passing of the torch—to carry on the tradition. Unlike most, she says she was not the girl who spent time playing with hair and makeup. Instead, she was the girl who took the chance to cut everyone else's hair, regardless of her knowledge. Every day is different, and for Alicia, that alone gives this job great meaning. Every day, she has the opportunity to make other people feel their best. She and her stylists walk between several worlds with their guests deepening their understandings of their lifestyles. She says that through creativity and craft, her team can make their routines easier.
Alicia's take on Salon Venustas is that it's continually evolved over time and has never lost the sense of hospitality and kindness for which it's become so known. Her team does its best to support each other in their craft and community. She points to three words that describe the Salon Venustas:
Firmatis, or strength in the salon's foundation of nurturing talent and businesses.
Utilitas, a deep understanding of the utility of each stylist's craft.
Venustas, creating beauty in style, self-care, and appreciation.
For her own preferences, Alicia enjoys short hair and working with a person's hair texture and head shape to create a style that not only looks good when they leave the salon but also holds a style until their next visit. She also loves to pair salon services with the experience of a treatment, especially when it transforms the hair and scalp to a healthier state. Alicia's advice to aspiring stylists; stay flexible, honest, and open-minded. Understand what it means to be a professional in the way you dress and speak to others, and above all, be a good listener. When she's not at the salon, Alicia enjoys spending time with her friends and family. Exercise is an important part of her daily routine, so you might find her at the gym, running, biking, or hiking. She has a deep love for travel and learning about other cultures. She also loves to cook and participate in anything that brings people together to laugh.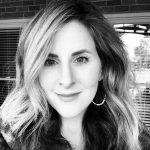 Lindsey
Stylist
Lindsey has always had a passion for creativity and is grateful to have a career where she can showcase her talents while making others feel great about themselves. Building confidence in others is what she strives to do each day in the salon. This happens by understanding each client's personality and lifestyle in order to create a tailored look for each individual. Lindsey has taken a wide range of educational classes including Aveda, Redken and Keune. She keeps her work fresh and creative by taking continuous education classes with Goldwell, and utilizing online training to consistently grow, enabling her to provide any needs her clients may have.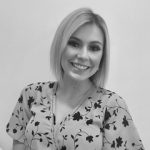 Nikki
Stylist
While attending college Nikki discovered her passion for style, fashion and beauty, which lead her to pursue a career in hairdressing.  She attended Academy DiCapelli and took additional classes and volunteered for charity events , which resulted in her graduating at the top of her class. Nikki is a Goldwell Color Artist, Makeup Artist and is certified in extensions by Academy Pro Hair. She  loves to make people feel beautiful and is excited to start her career at Salon Venustas where she can continue to learn and grow. When Nikki isn't at the salon, She enjoys spending time with her family, including her fur babies and coaching a high school dance team.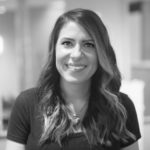 Lauren
Stylist
Lauren trained at the Aveda Institute in Tempe, Arizona, and has been a licensed cosmetologist for 12 years. She continued her education, taking haircutting classes at the House of Bumble in New York City. Lauren chose to be a stylist because it combines the things she loves most in people and art. She says it's a lot of fun and has always felt compelled to cut and style hair. Lauren's favorite part of the job is helping people have a moment of peace in their busy lives and making them feel awesome about how they look. Lauren says the feeling at Salon Venustas is positive and profession, and there's a real focus on education. As for herself, she says what makes her stand out from other stylists is the fact that she's a mom of two, so she knows what it feels like to have an incredibly busy schedule—parent or not. She understands the importance of ensuring hairstyling routines stay relatively easy on a daily basis. Lauren offers five words of wisdom to aspiring stylists: Be positive, listen, and keep learning. Lauren loves being with her family. When she's not in the salon, you'll likely find her painting, cooking, hiking, or doing anything outside.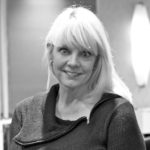 Karen
Stylist
Karen has been with the salon for 32 years! She went to school at SCSU for a year and then attended Gal Mar Hairdressing Academy. Karen has also taken numerous cosmetology classes over the years and has even been a Goldwell Instructor for the past three. She felt like her profession chose her and loves being around people all day. Karen loves figuring out the best style and color for her clients and getting to know them in the process. Karen loves working for the wonderful DiGiralamo family and that the salon not only feels like a team but a family as well. The friendly and professional atmosphere was exactly what she was looking for in a work environment. Her sister also worked for the salon and recommended that Karen join her and she hasn't looked back since! When she's not at the salon, Karen likes hiking and mountain climbing. She also enjoys socializing with friends and family at get-togethers.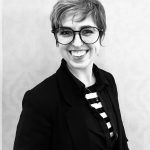 Vicki
Stylist
Warm and compassionate, Vicki loves helping others feel good about themselves. For Vicki, the cut is her passion. She knows that a well-executed haircut holds power; it gives the wearer confidence. Since Vicki is driven and focused, she hones her craft and has trained at Sassoon Academy in Chicago and at Goldwell/KMS Academy in New York City. Vicki believes it is important to connect with her clients while they are in her chair. Certified in Reiki 2, Vicki aims to provide comfort to her clients as well as a beautiful hairstyle. Vicki's career choice has both humbled and empowered her because as hairstylist, she finds her inner strength. At Salon Venustas, her coworkers have become sisters, and her clients have become friends. Walking into the salon each day fills her with gratitude for her profession, and confirmation that what she does matters.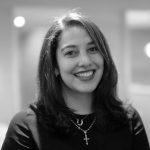 Julia
Stylist
Julia came to our salon because she loves the way the employees work as a team; she says that characteristic really means a lot to her. Although she's pretty new to Salon Venustas, she's been in the beauty industry for many years. Julia worked as an assistant for about seven years and attended Westchester School of Beauty for her initial education. From there, she went on to study at L'Oreal Academy in Soho, NY, furthering her education by studying under some of the best and brightest in the beauty industry. Once her schooling was finished in New York, she became an assistant at one of the top salons in NYC where she learned about consistency and discipline. Julia says it's very gratifying to put a smile on someone else's face after they have a service. Over time, she's discovered that her favorite service is blonding. It's a great industry to work in because stylists are not only able to make people feel great, but they're also able to create relationships with everyone who sits in their chairs. Julia's favorite part of her job is the camaraderie she shares with her coworkers. They have fun together every day, and that makes the workday go by super quickly with smiles on everybody's faces. The thing that sets Salon Venustas apart from other salons is the welcoming environment that everyone feels as soon as they walk through the door. She also notes that the stylists are on top of their game and really care about giving great quality service. As for her own special superhero power, no one can scare people quite like she can! But for a work-related answer, Julia credits her desire to always learn and her dedication to her craft as attributes that define who she is as a stylist, employee, and coworker. The advice she would give aspiring stylists is learn as much as you can, and don't be afraid to set new goals. When she's not at the salon, you'll find Julia sleeping, reading, or gardening.